There's a definite theme taking shape on the Byron foreshore and it is attracting great enthusiasm from locals and visitors alike. With the recent migration of Whales through the Bay and our long held fascination with these amazing creatures it's not surprising that they have become the Byron Bay foreshore icon.
As the last of the new waste bin surrounds were put into place – with their whale silhouette cutout design, and the Whale & Dolphin Trail signage was installed, for today's launch party for both projects, the feedback was immediate and very positive. "The team installing the signage was besieged by locals and visitors congratulating them on how wonderful it looked.
"With comments like, 'they're so Byron' and 'we've never seen signage like this before' we are really happy to think that the trail will be loved by all," Council's economic development and tourism coordinator, Jane Laverty said.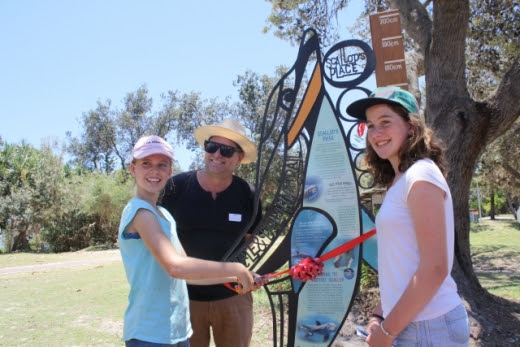 The Whale and Dolphin Trail has been funded by the NSW Department of Environment & Heritage and Byron Shire Council. The development of the trail has been made possible through the hard work of a core group of stakeholders including Cape Byron National Parks & Wildlife, Arakwal, Dolphin Research Australia, Positive Change for Marine Life, Byron Bay Historical Society, The Oceania Project, Dune Care, Destination Byron, Surf Lifesaving Australia and Southern Cross University along with Council's internal working group and local signage design firm, Armsign.
"The Byron Bay Foreshore is a place with so much potential and opportunity. It's our place to connect with our marine life and nature our identity,' Byron Shire Mayor Simon Richardson said. "Interestingly the two projects we are launching today are linked.
"With the new bin surrounds encouraging more awareness about disposing of your waste thoughtfully this leads to a healthier Marine Park for the Whales & Dolphins we are celebrating through the Trail," he enthused.
Over 70 new eye catching public place bins, including 38 recycling bins, were recently installed in Apex Park, along the Foreshore and at Wategos.
The second stage of the project will extend into the Byron Bay town centre and Brunswick Heads in March 2017. And then Bangalow and Mullumbimby later in 2017. Council's team leader of resource recovery and recycling, Lloyd Isaacson said the new bin enclosure design was chosen for its durability, capabilities for capturing waste and recyclables, reducing litter but also for its neutral colour which compliments the aesthetic of the Byron Shire and the Byron Bay Town Centre Masterplan.
They also feature simplistic carvings of some local icons, including whales and surfers.
"Until now, recycling in public places has been limited and these upgrades highlight both Council and the community's ongoing commitment to reduce waste to landfill.
"We know our community are passionate about recycling and preserving our natural environment, so these upgrades are another step in the right direction for resource recovery in the Shire.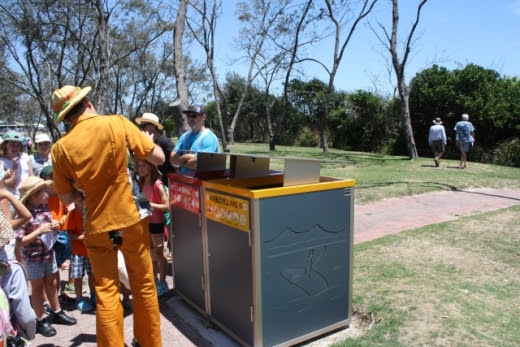 "The new addition of green waste organics bins to Apex Park has also been rolled out to support our waste recycling initiatives," Mr Isaacson said.
Mayor Richardson highlighted that it has been a wonderful collaborative project between Byron Shire Council and community and raises awareness and educates about the importance of our local marine environment and reducing littler, particularly plastic litter.
"Positive Change For Marine Life continue to do fantastic anti-litter and waste education in Apex Park and along the Foreshore for Council each weekend. This has been a really positive community engagement program.
"Plus, it's fabulous to have the Byron Bay Community School students at the opening today who have been learning all about waste and recycling in school this year through Council's Waste Wise Schools Challenge Program," he said.