With a population of 34,500 people and a median house price of $987,500 (as of December 2018), Byron Bay is Australia's most expensive city.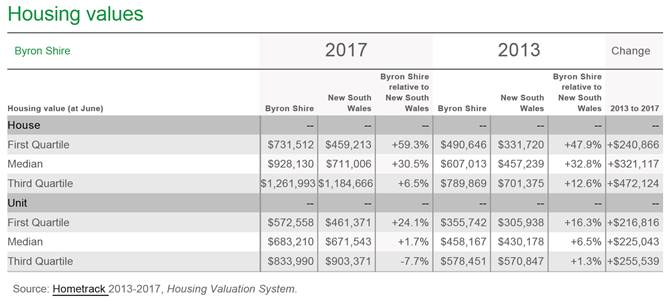 The table above shows the values of houses and units in Byron Bay. Through the first quartile, prices are significantly higher than the state average.
What has driven Byron's property market?
Byron Bay has averaged double-digit growth every single year for two decades, with median house prices increasing by an average of 10.1 per cent over the last 20 years. That's the highest rate of growth in any city across Australia.
What's more, the average annual population growth is below the national 17-year average of 1.5 per cent at 0.9 per cent.
Byron is proof that city size, population, and population growth are not the most significant factors impacting property prices. In the Byron region, demand is primarily driven by affluent, middle-aged, Australian-born couples. The median household average is 44 compared to the national average of 38. Byron also boasts a below-average number of children per household.
Despite being the country's most expensive city, 36 per cent of property-owners own their homes outright, just over the national average of 31 per cent.
Although Byron's economy relies heavily on tourism, many residents own their own businesses and may operate out of other parts of Australia. Better internet connectivity and improved transportation have supported this trend – Byron is a two-hour drive to Brisbane on the highway or a one-hour flight to Sydney via the Ballina Byron Gateway Airport.
The development of the Ballina Byron Gateway Airport has attracted more people to the area, demonstrating the extremely positive impact that investment in airport services can have on a local economy.
Find out more here.